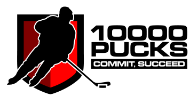 How to Participate (Players)
The contest begins June 1st and ends on August 31st. Follow the steps below to participate...
A couple notes to keep in mind.
All participants must be 18 years old or younger at the time of entry in order to be eligible for prize packages.
Photos of the player along with the shooting area will be required to claim prizes.
You must agree to the contest rules and regulations in order to participate.
How to Track Your Team (Coaches)
Click on Team on the 10,000 Pucks home page
Enter your team's information
Invite players by using the registration link on your team page
Now you have your team created! When players register for the contest, they will be able to select your team on their profile page. Once they've selected your team and saved their profile, you will be able to see the player show up on your dashboard.
How to Manage Your Entire Association
Want to set up multiple teams in the contest? Simply follow the steps below to create a new association.
Click on Association on the 10,000 Pucks home page
Create teams on your association dashboard by clicking on the "Create New Team" button
Give coaches and/or team managers access to their teams by clicking on the "Access" link by each team