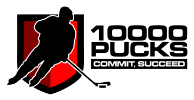 Please Log In or Register
The 10,000 Pucks Contest is free for players, teams, and associations. To get started in the contest, you must first register for a free account at HockeyShare.com. Please select one of the options below to continue.
Armstrong Cooper Youth Hockey U12 Girls
Register

To create a new FREE account, please use the link below. Please note, you will be required to validate your email before you are able to activate your account to use with the 10,000 Pucks Contest.

NOTE: If you are registering a new account, please visit this link again AFTER you have created your account in order to auto-link your account to Armstrong Cooper Youth Hockey U12 Girls.