This drill is currently in the trash and scheduled to be deleted soon
6 Puck Pass Progression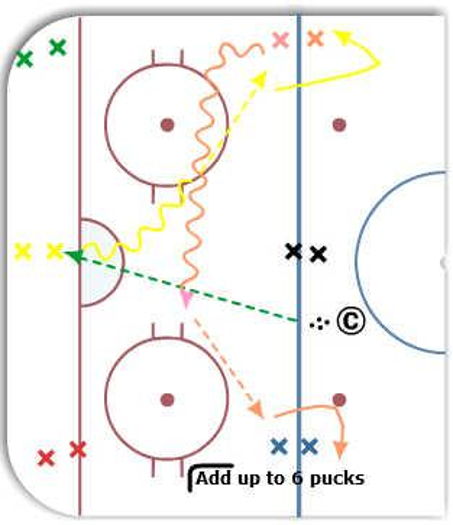 This drill was created using HockeyShare.com's Online Drill Drawing & Practice Planning Platform.
Description
6 lines as shown with coach with pucks outside zone.

1. Coach starts by sending a puck at one of the lines. Player must skate and feed any line and follow pass to end of that line.

2. As additional pucks added, pass options become more limited - players must delay skate with puck and communicate prior to feeding

RULE - CANNOT PASS 2 PUCKS TO SAME LINE OR MUST RESET BACK TO ONE PUCK!

Once send 6 pucks, only one pass option that fits!
Category: Passing
Tags: Timing, , Look before passing, , Communication
Posted By:
kmagnani
(Used in 125 Plans)
Created: 2012-06-16, Last Modified 2013-06-03