This drill is currently in the trash and scheduled to be deleted soon
3 Players Start/Stop Passing Drill, 2 Variations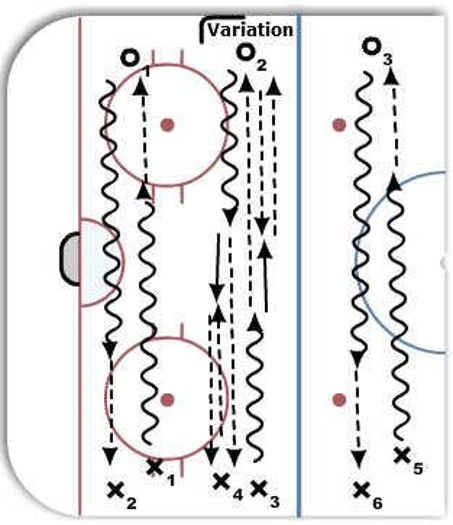 This drill was created using HockeyShare.com's Online Drill Drawing & Practice Planning Platform.
Description
3-Man Moving Passing Drill to a Stationary Target. Two players line up on one side of the ice, the remaining player on the other. The first player skates with the puck 2/3 of the way up ice then passes to the stationary player along the far boards, then takes that player's stationary place and waits for a pass. The player receiving the pass immediately heads the other direction and passes the puck to the remaining (stationary) player along the near boards
Category: Passing
Tags: Receiving a pass, Quick acceleration with the puck after receiving the pass, Making an accurate pass to a stationary target while moving
Posted By:
Coach D.
(Used in 0 Plans)
Created: 2012-08-23, Last Modified 2013-06-03