This drill is currently in the trash and scheduled to be deleted soon
2 on 1 regroup continuous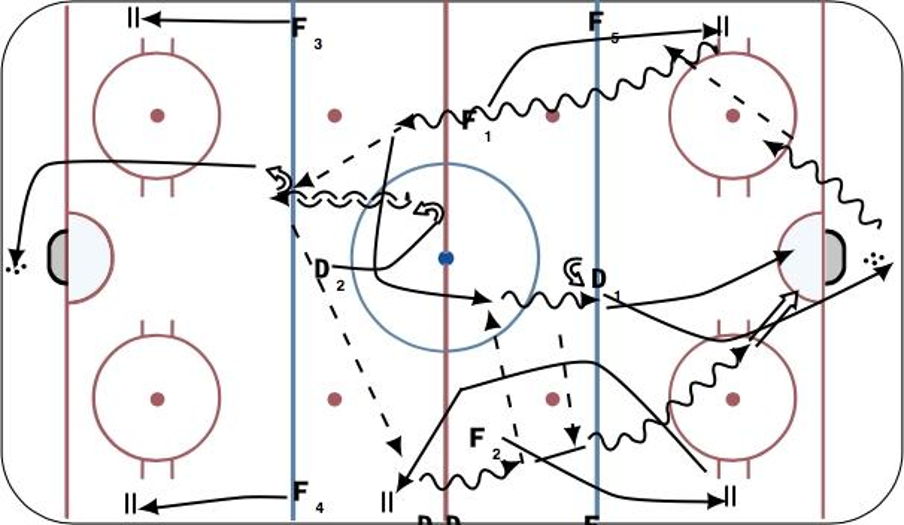 This drill was created using HockeyShare.com's Online Drill Drawing & Practice Planning Platform.
Description
1) on whistle D1 pivots and skates hard behind his net for a puck.
2) F1 and F2 go to wings for pass.
3) D passes to one of F1 or F2
4) F1 and F2 skate through neutral zone.
5) D2 skates to redline and backs up to receive pass in neutral zone.
6) F1 passes puck to D2 one forward swings and the other anchors.
7) D2 passes puck to one of F1 and F2.
8) F1 and F2 return 2 on 1 against D1. D3 steps into D1 spot at centre ice for next group as soon as F1 and 2 go by.
9) D2 as soon as passes to F1 or 2 pivots and skates to pucks behind net.
10) F3 and 4 skate to wings for pass.
11) F3 and 4 get pass regrouping to D3 in neutral zone and come back 2 on 1 on D2.
Notes: D that makes break out and defends 2 on 1 to take up gap in the neutral zone and not sit back and wait.
Category: Regroup/NZ
Tags: Crisp passes, D positioning, One F anchor neutral zone
Posted By:
BVandyk
(Used in 126 Plans)
Created: 2011-08-19, Last Modified 2017-09-24