This drill is currently in the trash and scheduled to be deleted soon
D Double Shot Forward Battle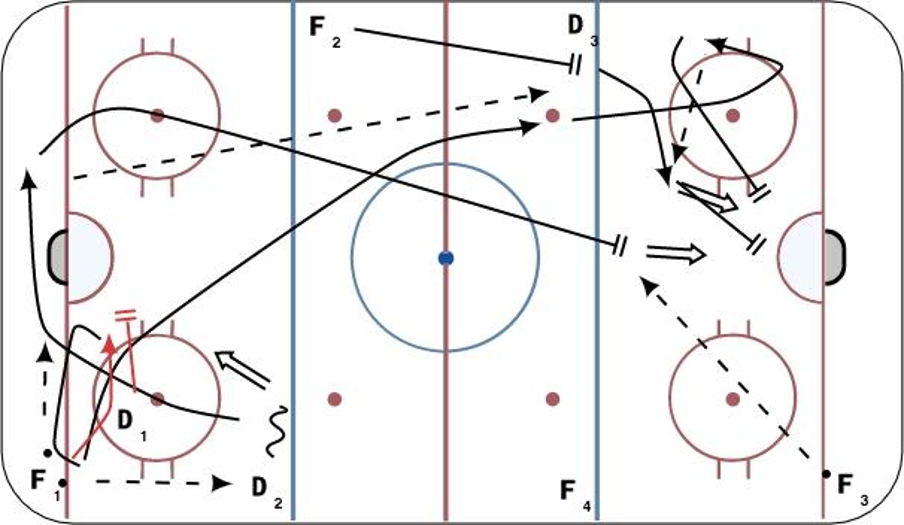 This drill was created using HockeyShare.com's Online Drill Drawing & Practice Planning Platform.
Description
F1 passes to D2 at the point. D2 walks the blue line and shoots. F1 drives to the net with D1 defending. (D1 is now done with the drill and moves to the line D2 started in)

After the shot F1 grabs a new puck from the corner and chips it below the goal line. D2 sprints in and picks up the chipped puck. F2 stretches out to the far blue line. D2 passes to F2. F1 comes through the middle - F2 leaves a chip for F1 to pick up with speed. D2 follows play up to offensive blue line. F1 cuts back (delays) and hits F2 with a pass in the slot for a quick shot.

F1 now cuts back to the net and F2 defends. F3 passes to D2 for a point shot. F1 and F2 battle in front of the net.
Notes: D2 becomes the initial defender when F3 starts the drill going back the other way.
Category: Competitive
Tags: battles, 1v1, point shots, tipping, stretch passes, delay
Posted By:
HockeyShare Drills
(Used in 0 Plans)
Created: 2017-06-16, Last Modified 2019-11-26