2-1 regroup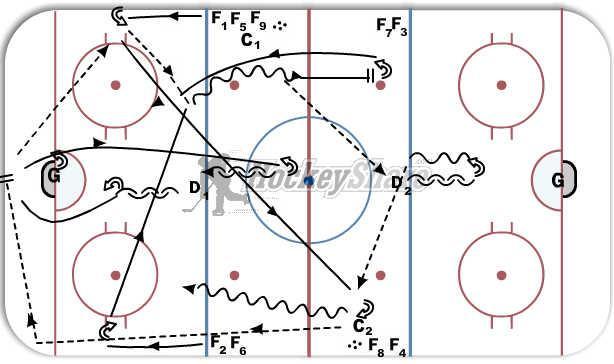 Description
1. C2 rims puck, goalie stops it behind net; D1 backward then retrieves puck/stops for sec to look at wingers.
2. D1 steps out one side and passes to F1 (D can decide which way to pass).
3. F2 sprints thru zone to get pass from F1; stays wide opposite side, then hits D2. Once F1 passes to F2, he sprints across ice while D1 is backing up.
4. Both Fs pivot or stop/go to get regroup pass from D2.
5. D1, once he passes to wing on breakout, moves up with play to NZ, then pivot bwd to play 2-1 with F1/F2.
6. Once D2 passes to F1 or F2, C1 then rims puck in other way, goalie stops and D2 retrives. D3 steps out into NZ once F1/F2 and D1 are inside blue line.
7. Repeat drill.

Notes: Everyone not in play kneel next to boards.
Tags: goalie stopping rim dump in, D moving quick to set up, forwards hard to boards and pivot, hard passes