1 on 1's with point shot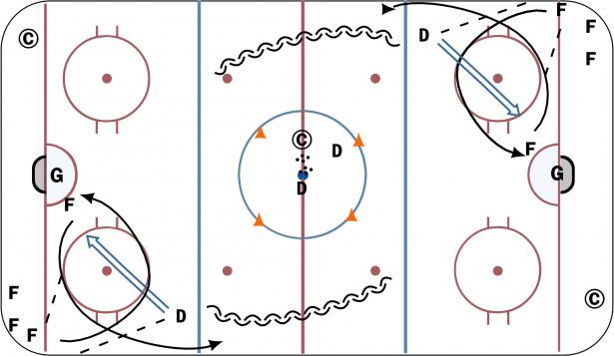 Description
Both D start on Blueline. receive pass from Fwd in Corner. Forward skates out of corner to net, around top of circle always facing shooter. D walks puck off boards and shoots, F tries to tip. After 1 rebound try, Fwd skates bottom of circle to take pass from 2nd fwd in line, d forces skater outside on 1 on 1.
Can progress to 2 on 1

Ensure that D use outside shoulder for guide, have good gaps (2 stick lengths) and eyes on chest. "Play inside the dots D) Fwds, use change of pace, chips / and / or moving pucks inside feet when D commit.
Tags: Passing, D Gap Control, Forward Speed