2 on 1 Eye-up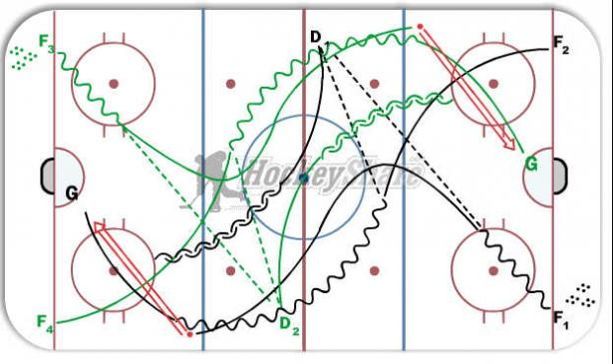 Description
- F1 & F2 skate toward blueline in a crossing pattern.
- F1 passes the puck to D1, then crosses behind F2.
- D1 passes the puck to F2, the pursues, driving F2 wide.
- Upon crossing into the offensive zone, F2 does an eye-up (leaving the puck at the line for F1).
- F1 crashes the front of the net, creating a screen, while F1 takes a shot from the point.
Notes: As a varioation, F1 can carry the puck further into the zone to create more of a battle drill.
Tags: Forwards use momentum to create space & time in the offensive zone., Defence keep puck carrier to the outside lane.