Battle Drill Regroup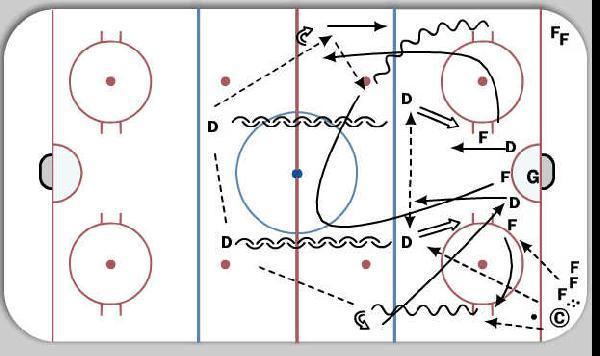 Description
1st Part-start with 2 D at BL & 2 D in front of net. 2 F opposite corner of coach, 1 F from coaches corner.

Coach passes a puck to D at blue line and they play catch until next whistle which they will shoot after whistle.

Same time 2 player from other side and one from coach side with the puck and play 3 on 2 against D in front trying to score. After whistle they screen for D shot.

Part 2 - d at BL start to skate back thru NZ and the F pick up pass from Coach and break out into NZ where they will regroup with D and then break back into zone 3 on 2 against D from front of net. Next group D from net go to BL and new D to front of Net.
Notes: Quick passes at BL as well as in front of net.
Tags: battle hard, puck support, Passing, Shooting