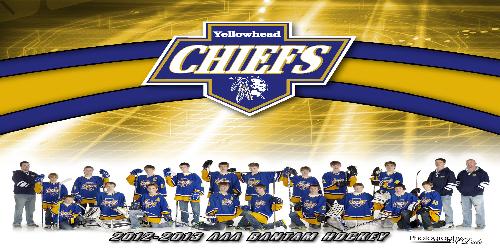 Sponsors
The Yellowhead Chiefs AAA Bantam Hockey Club is proud to have the following sponsors for the 2012-13 season.
PLATINUM
Heritage CO-OP
Kimp Services Inc.
Vanguard Credit Union
Minnedosa Tire Ltd.
The Construction Chameleon
Harris Pharmacy Ltd.
Fiskel Farms Transport Ltd.
Ernie Drozda Construction
Keith & Janet Martin
TTT Acres Ltd.
Neepawa Tire Ltd.
BASF Canada
GOLD
Dylode Creative
Bob & Shirley Kimpinski
S.H. Dayton Ltd.
Justin Mowbray
South Ridge Land & Cattle Ltd.
Gerald Pederson
GRMC Vision Centre
Trigger Effect TV Show
Neepawa - Gladston CO-OP
Nick's Repair Service - Neepawa
Tridekon
Little River Earthmoving Co. Ltd.
Outback Repairs
Crossroads This Week & South Mountain Press
Daryl's "Service" Glass Ltd.
Parrish & Heimbecker - Glossop
Strathclair Credit Union Ltd.
Minnedosa Credit Union Ltd.
Ralph & Shirley Pedersen
Asselstine Agencies
Lonewolf Taxidermy
Harfield Custom Cabinets
Neepawa Home Hardware
Neepawa Plumbing and Heating
Oak River Quick Freeze
Strathclair CO-OP
M & K Woodley Ltd.
Richardson Pioneer - Shoal Lake & Minnedosa
Viterra
RTM Transport Ltd.
SILVER
Murray Farms Inc.
Russell Redi-Mix Concrete
Wilsons Wheels
Shirley Kaskiw
Investors Group - Craig MacDonald
Murray & Mona Kawchuk & Family
Chappell Ag Ventures Inc
Country Crocus Bakeshop
Campbell Flowers & Funeral Home
Mar-Dee Enterprises
Team Electronics
Edward Jones - Perry Doull
Comfort Inn - Brandon & Winnipeg
Shoal Lake Bigway Foods
Peter Harrison of Sutton Realty
Fouillard Furniture & Appliances
Minnedosa Veterinary Clinic
Zahaiko Family
Rolling View Farms Inc.
NWL Trading Ltd.
Gregory Sand & Gravel
Hi Way Collision
Safeway - Neepawa
Oak River Hotel
Yellowhead Physiotherapy
Rapid City Memorials
Robert Mowbray
Sims & Company Law Office
Midaga's
BRONZE
Wayne Chegwin
Eugenie Fafard
Lorrie Murray
Gwen Pedersen
Rob & May Yule
Redfern Farm Services
Knight Accounting Service
Diamond Waterworks
RM of Blanshard
Minnedosa Insurance Services
John's Tax Service & Accounting
Burgess Quality Foods
Fouillard Steel
Decorby Family Foods
Phil (J.R) Fafard
Rob & Brook Yule
Ken & Heather Moore
RBC Royal Bank
Gary & Lorraine Cochrane
McCallum Services
Blazer's Convenience Store
Gateway Motel
Ideal Image - Weight Loss Solutions
PLAYER OF THE GAME
Benny's