This drill is currently in the trash and scheduled to be deleted soon
Breakout 2v1 & Point Shot - TCS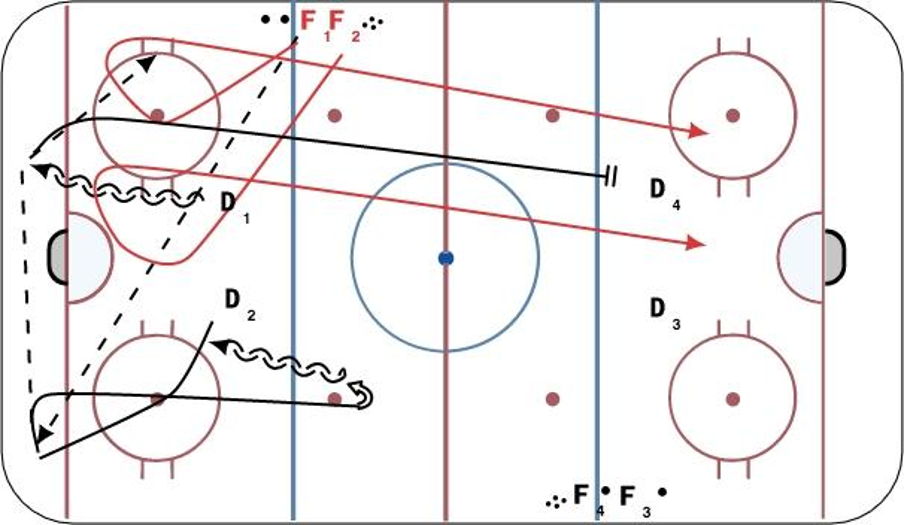 This drill was created using HockeyShare.com's Online Drill Drawing & Practice Planning Platform.
Description
Forwards dump puck in to opposite corners. D2 retrieves the puck D1 moves to support position. F1 and F2 move to wing breakout and center breakout positions. D2 passes to D1, D1 passes to F1 on the wing. F1 and F2 head up ice for a 2v1 vs D4 - D1 follows the play up ice and stops at blue line. D2 moves up ice and re-gaps to play the 2v1 back in to the zone. After the initial rush, the D at the offensive blue line gets a pass from the forward line and takes a point shot with a 2v1 net front battle.
Notes: Drill run simultaneously from both sides. Stay out of the center circle on the rush up ice to avoid collisions.
Category: 2 on 1
Tags: 2v1 Rush, Breakout, Re-Gap, Point Shot, Net Front Battle
Posted By:
HockeyShare Drills
(Used in 10 Plans)
Created: 2017-04-17, Last Modified 2019-11-26