This drill is currently in the trash and scheduled to be deleted soon
Detroit Drill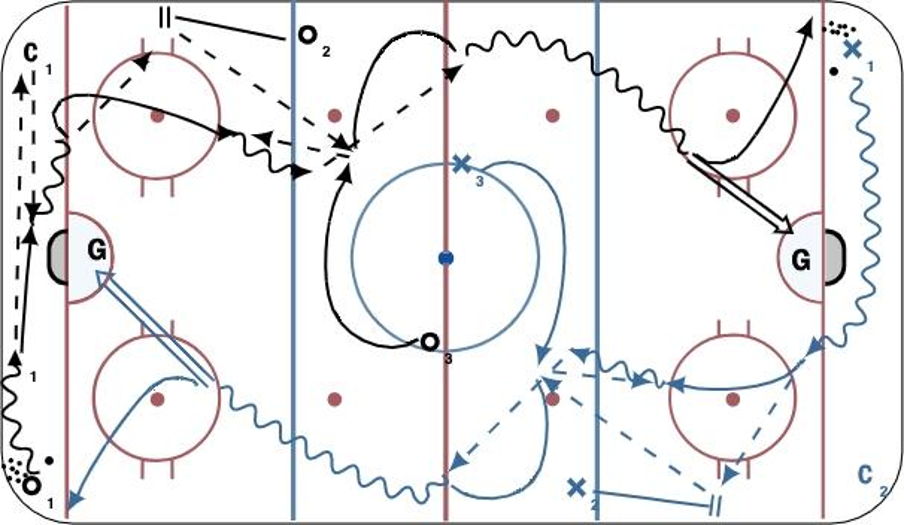 This drill was created using HockeyShare.com's Online Drill Drawing & Practice Planning Platform.
Description
Run same time add once with 2 to 3 players at each position.
-X1 leaves with puck turns up ice around the net and passes to X2
-X2 comes down the wall anchors, receives a pass from X1, controls puck and quickly moves the puck to a cutting X3
-X3 times cut and begins to move as the puck is passed to X2
-X3 picks up speed when X2 has puck control and then receives a pass from X2 and touch passes back to X1 and finishes cut up the boards
-X1 skates onto the touch pass and moves the puck wide to X3
-X3 takes the puck in wide for a shot.

Advance the drill by having O1 who passes to the coach in the corner and receives a pass back before rounding the net and moving the puck to the hald wall
Notes: This drill can be run as a breakout and 3-0 zone entry and progress into a three on two. Also X3 can start in own zone and run stretch and break it off (simultating a game situation where the D react to stretch and F3 cuts in front og the D in the open space) and swing back into support across the ice.
Category: Drill Shootout
Tags: -Touch Passing, -Anchor on the boards facing up ice, -curl low into support, -flat pass no greater than 45 degrees
Posted By:
Kevin
(Used in 9 Plans)
Created: 2013-01-07, Last Modified 2019-11-24